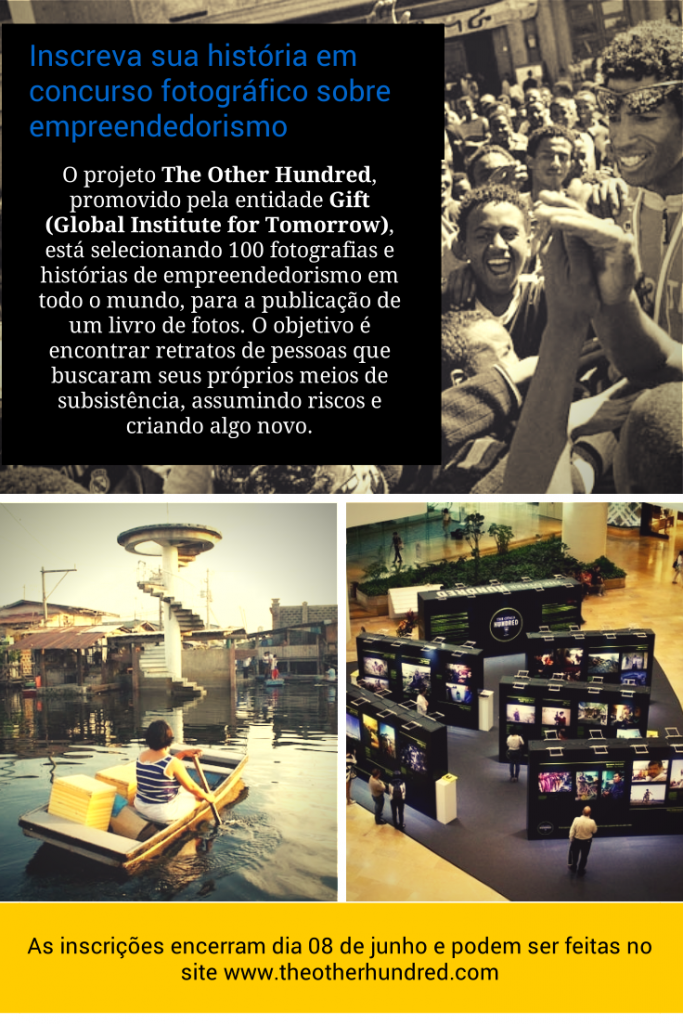 Fundação realiza concurso de fotografias e histórias de empreendedorismo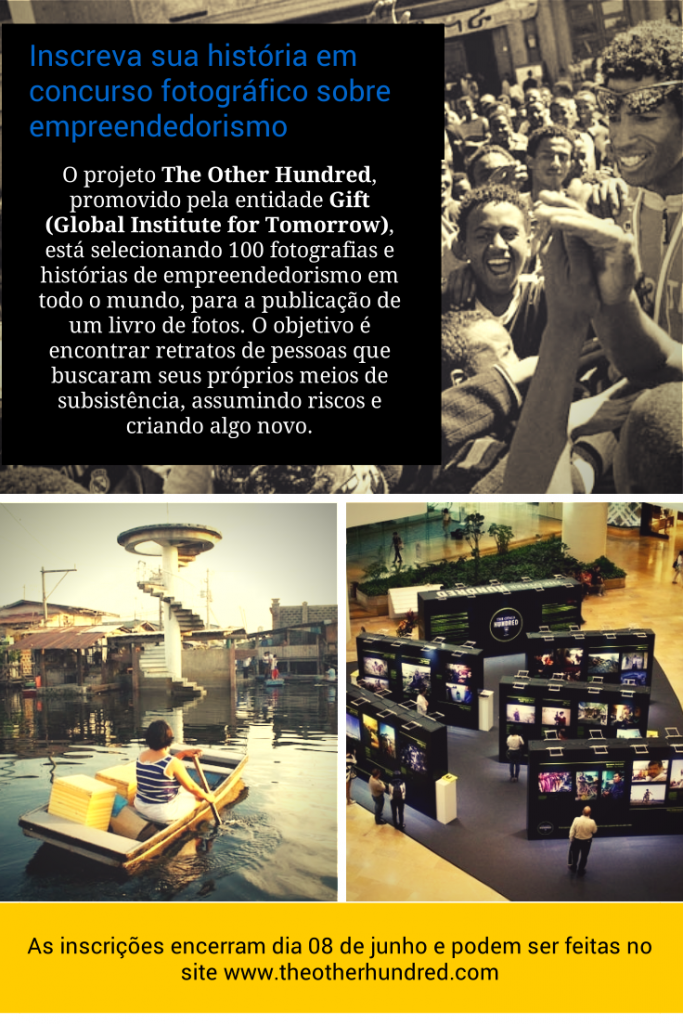 Microempreendedores que participaram de projetos da Aliança podem contar com auxílio da organização para fazer a inscrição
O Global Institute for Tomorrow (Gift) está em busca de empreendedores com histórias marcadas por riscos e superação de desafios, pela criação de algo novo e pela atuação como agentes transformadores de suas comunidades para participarem do projeto The Other Hundred, um concurso de fotografias e histórias que resulta na produção de um livro de fotos com 100 "foto-histórias".
Realizado anualmente, o The Other Hundred tem em cada ano um assunto ou problema como tema, buscando apresentar diferentes relatos sobre pessoas, culturas e lugares, que promoveram algum impacto positivo nas comunidades em que estão inseridos.
Para se inscrever, os interessados devem enviar um texto em inglês, com 200 a 500 palavras, sobre a sua trajetória de empreendedorismo, evidenciando como ele contribui para seu desenvolvimento humano e social, assim como sua interação com a comunidade. Com este material, deve ser enviada uma foto de qualidade, ou um conjunto de 10 fotos, que representam e destacam o seu projeto de empreendedorismo. As inscrições encerram no dia 8 de junho de 2014, às 23h59 no fuso horário de Hong Kong, o que no Brasil significa 8 de junho às 12h59, e devem ser feitas no site do projeto The Other Hundred.
São exigidas algumas características técnicas para as fotografias inscritas. Elas devem ter sido feitas a partir do ano de 2009, preferencialmente de 2013 e 2014; não possuir manipulação digital excessiva (Photoshop); ser registradas de uma câmera a partir de 12 megapixels; estar em formato JPG; ter, no máximo, 1,5 MB; e fazer parte de um conjunto de 1 a 10 fotos.
Os empreendedores participantes de projetos da Aliança Empreendedora podem se inscrever contando com o apoio e acompanhamento da entidade. Para isso, devem encaminhar as fotos que desejam inscrever, contendo autorização de uso de imagem do fotógrafo, e a sua história de empreendedorismo, relacionando ao seu desenvolvimento humano e social. Este material será traduzido para o inglês, sendo então inscrito no concurso com as fotografias. Para contato sobre informações e envio de material e-mail para carol.meira@aliancaempreendedora.org.br.
As melhores fotos e histórias serão selecionadas pela Fundação Gift ao longo do mês de junho, sendo anunciados os 100 escolhidos em julho de 2014 no site oficial do projeto. Uma comissão julgadora irá selecionar as melhores fotografias e histórias, sendo que os três primeiros colocados irão receber as seguintes premiações: 1º lugar 5 mil dólares; 2º lugar 2 mil dólares; 3º lugar mil dólares. Todos os demais selecionados irão receber 300 dólares.
---